————————————————————————
Ontario Goat wants to thank everyone for participating and visiting us at our various events throughout the summer and fall! We are in the midst of planning for next year and will get you up to date shortly!
2023 Summer/Fall in Review:
Ontario Goat's Hoof Health Clinic – Listowel ON
Ontario Goat's Hoof Health Clinic – Millbrook ON
Canada's Outdoor Farm Show
International Plowing Match and Rural Expo, Dufferin County
Royal Agricultural Winter Fair
———————————————————————————–

What a great day in GB to get out and network with fellow goat producers and industry partners! Getting together in person and listening to some well educated speakers and enjoying the chat with fellow goat producers was a great way to start 2023! Our GM Cecilia gave and update on our association and VP Amy spoke about the Goat Code that has finally been released! Another board member Michele, took part in the dairy panel for culling tips and our President Murray and board members James and Josh were also present for the day. We were so pleased to see new and experienced producers in attendance, managing all different types and sizes of operations at home. For those that have never attend GBFW, you will want to mark your calendars for next year (First week of January 2024!) as there is a week full of farming knowledge and educational opportunities to take part in! Goat Day next year will be Friday January 5th, 2024!
———————————————————————————
Hard Copies of the Goat Code Have Arrived! Stay Tuned to your Mailbox for a copy in the upcoming weeks! If you are a new producer and worried about not receiving a copy please reach out @ info@ontariogoat.ca or 519-498-1376!
———————————————————————————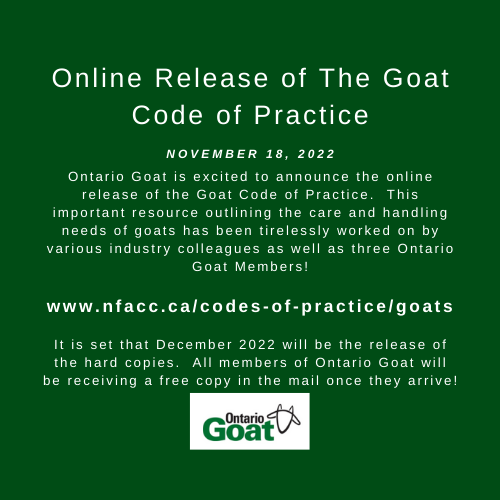 How to Access the Goat Code of Practice for the Care and Handling of Goats (Online versions)
English – Goat Code 22_Final.pdf (nfacc.ca)
French – Goat Code 22_FR_Final.pdf (nfacc.ca)
———————————————————————————————————————